If you know anything about fashion, you know that things go in and out of style, sometimes quicker than you want it to. This include things like hair and clothes, and while it might be better off that things are left in the past (think 80's hairstyles) it can be fun to pull things from long ago. But today's post isn't about retro or vintage clothing, it's about the colors that are in right now.
In case you didn't know, Pantone is a corporation that decides what colors will be in for each season. My first thought was,
Why should a random corporation decide what will be fashionable?
. So I did some research, and I found out that a lot more meetings, presentations, and hard work go in to determining what people would be wearing than you would think. The decisions are also based on what designers are putting out on the runway. So, here are five of the ten Spring 2013 colors:
Emerald:
Emerald is the 2013 color of not just spring, but the whole year.
Above is a Burberry Kickback Lace Trench Coat, and to the left is Solange Knowles at the 2013 Grammy Awards.
Dusk Blue:
Dusk Blue is another trending color in Spring 2013. Above is a Zac Posen dress from his 2013 Ready To Wear collection, and to the left is Zooey Deschanel at the 2012 Emmy Awards.
Tender Shoots:
Tender Shoots is a yellowish-green color that was seen above on Dianne von Fürstenberg's runways and on Nicki Minaj (left) at the American Music Awards in 2012.
Grayed Jade:
Grayed Jade was seen on the Elie Saab runway (above), as well as on the left on Jessica Chastain at the Golden Globe Awards.
Lemon Zest: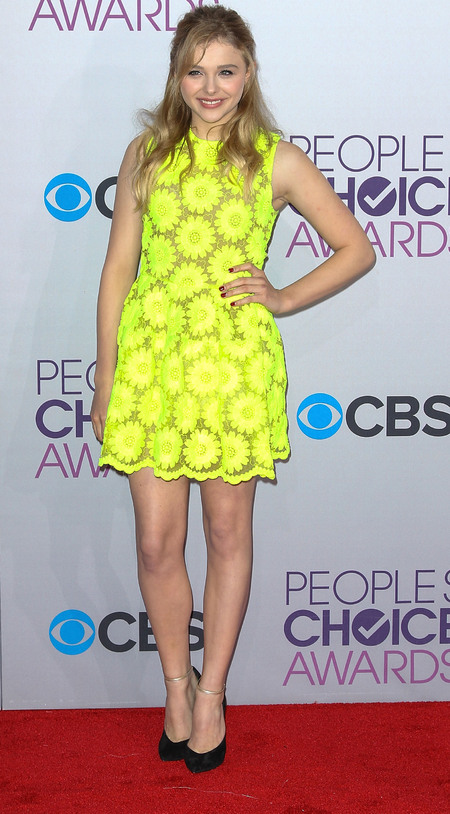 Lemon Zest is the last color of this post, with a Lemon Zest dress above on the DKNY runway and one on Chloë Grace Moretz at the 2013 People's Choice Awards on the left.
I will be doing the same thing for the other five Spring 2013 colors in the next post, but if you have any other posts you would like to see, or any other comment I would love to read it!

XOXO,
Taylor